Even in this situation in which we find ourselves, we can continue to live God's purposes for our lives. We can even take advantage of this moment to feed ourselves even more spiritually and leave this situation ready and full of boldness to face the next challenges that will come.
We must not waste time in this quarantine! Therefore, we have separated 4 tips to help you, with indication of resources in which our team has a lot of work.
1. Pray More
Take this time to pray more and dedicate a daily devotional time. We just launched the Pray More app, a social network for you to spend more time in prayer. With this app, you can submit your own orders and pray for other people's requests. Just search for "Pray More" on the App Store (iOS) or Google Play Store (Android). As it is a new application, it is being tested and we are receiving a lot of feedback from users to work on improvements.
2. Evangelize more
Amid so much bad news, you can spread the Good News of the Gospel of Jesus. Within Bible Offline app, you have access to SAL (salt in Portuguese), a powerful evangelism tool. Available on the app for both Android and iOS, in English and Portuguese. Through SAL you invite people to be evangelized and all the content for you to teach the classes is within the application. Become a SALT teacher right now!
Look for "Evangelize with SAL" in the main application menu.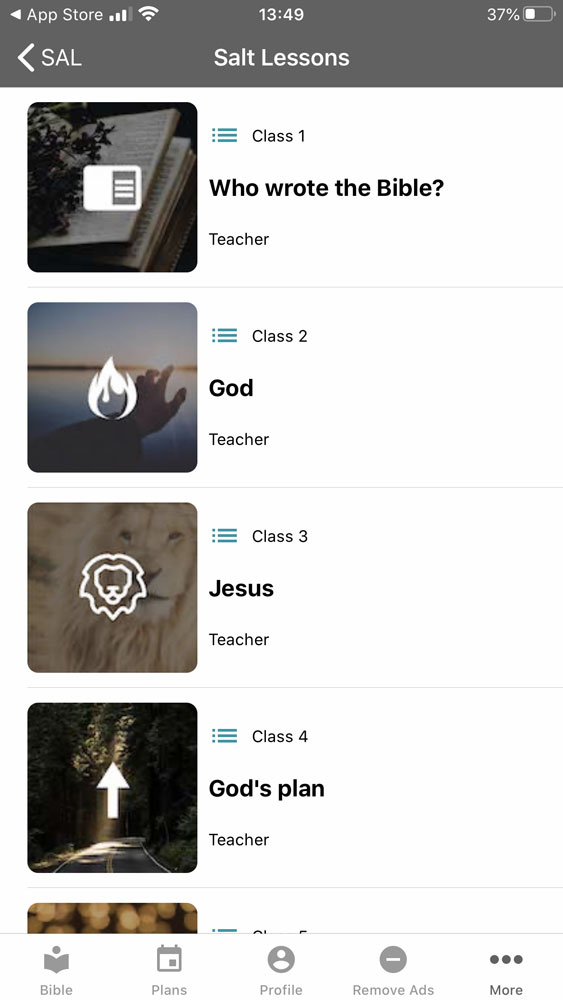 3. Keep up with your Bible reading
Why not also spend more time reading the Word of God in this quarantine? As many know, we have several reading plans available within the application. Some are focused on reading the entire Bible within the 1 year period:
Bible in 1 year
Chronological order
Bible in 1 year plan made by SBB – Bible Society of Brazil, with daily readings of passages from the Old Testament, New Testament, Psalms and Proverbs.
If you have already started any of these plans, but ended up being late reading. On Android, it is already possible to get on track. We will soon make this feature available on iOS as well.
4. Fill yourself with thoughts from above
We certainly need to be informed and updated on the situation of the coronavirus in Brazil and in the world. But it is important to have balance and not stop feeding our mind with thoughts about things from above. Instead of just consuming news, you can spend time on content that brings biblical values.
With that in mind, our team is even more focused on producing content. Every week we are sending more texts from the blog. We have also been working to release new translations of the biblical text. In the last week were released:
• Christian Standard Bible (CSB) in English with original audio, from Holman Bible Society
• New Spanish versions of Reina Valera from UBS (United Bible Societies)
• Almeida Edição Contemporânea (AEC) in Portuguese
You can also study other languages ​​by reading the Bible! =)
Conclusion
You can leave this quarantine very well spiritually fed and prepared for what is to come. We from Bible Offline team really want to help you in this challenge! Any questions, write to us! contact@bibleoffline.com
God bless!