Offline
Works without Internet
You can access your application and read the Bible anytime and anywhere. You do not need Internet connection to make it work. Our main goal is to make the Word of God accessible.

Translations
More than 74 translations
In English we have the New International Version (NIV), the King James Version (KJV) and much more. In Spanish the Reina Valera, in Portuguese the Almeida. We also offer the originals in Greek and Hebrew. You can activate two versions at the same time.

Audio
Listen to the books of the Bible
We have audios available for all translations. Just download them. We recently made available in English the dramatized NIV Live Audio, whose voices are performed by Oscar, Emmy and Grammy nominated artists.
Get to know the various features of the app:
• Search
• Favorites
• Personal Notes
• Colored Markers
• Audio Bible
• More than 74 translations
• Use of two simultaneous translations
• Devotional
• Hymns
• Reading Plans
• Among other features and adjustments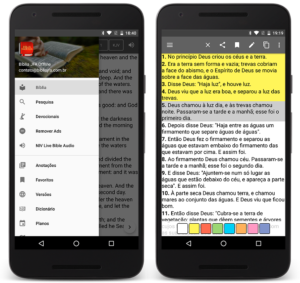 Team
We believe that the word of God must reach everyone in an easy, quick and clear way.
CEO
Executivo do mercado financeiro por mais de 30 anos, foi tesoureiro de bancos de investimento, diretor executivo da BM&FBOVESPA e de várias associações de mercado. É presidente do Instituto Renovo, uma aceleradora de projetos de private equity social e membro da banca do programa Start Up Brasil.
CTO / Software Engineer
Programador desde os 08 anos de idade. Meteorologista de formação, já trabalhou com modelos numéricos de previsão do tempo no INPE, Climatempo e Somar Meteorologia. Hoje trabalha desde 2011 dentro do mundo de aplicativos como foco na programação e desenvolvimento de produtos.
CMO
Formada em Relações Públicas pela USP e com experiência em startups de tecnologia, tem anos de atuação nas áreas de mídia, customer experience, assessoria de imprensa, conteúdo e marketing digital.
Para mim a Bíblia Jfa é maravilhosa, pois não só contém a Palavra de Deus, mas os hinários, mapas, e ainda há uma variedade de línguas para as quais posso mudar mesmo sem ter acesso à Internet. Posso ler em qualquer lugar e escolher o livro, o capítulo e versículo.  Que Deus os abençoe!

Só elogios pra esse app! Parabéns aos desenvolvedores pela contribuição na propagação dos evangelhos! O Senhor os abençoe em nome de Jesus!

Ter a palavra disponível todo o tempo, em qualquer lugar, é incrível. Os Devocionais me ajudam diariamente a superar meus medos, e me aproxima cada vez mais de Deus. Muito grato pelo app.
See some of our other apps
We focus on applications designed for the Christian audience.